For 20+ years I lived in industrial spaces where I could both live and do my work. However, once I bought my home, I made a conscious decision to abandon some of the art making I did in my own industrial space and to leverage shared collaboration space offered by The Crucible for those disciplines requiring it: specifically, my neon and metal work.

This is The Crucible. The Crucible is a 501(c)(3) non-profit arts education organization that fosters a collaboration of arts, industry, and community. The Crucible promotes creative expression, reuse of materials, and innovative design, while serving as an accessible arts venue for the general public in the Bay Area.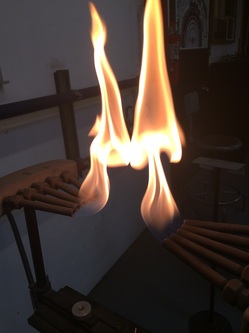 I'm frequently asked how neon is made. You start with glass tubes in various diameters and then you work that glass over a flame. Pictured here is a crossfire that has just been lit. This flame is not hot enough to do work - except maybe annealing,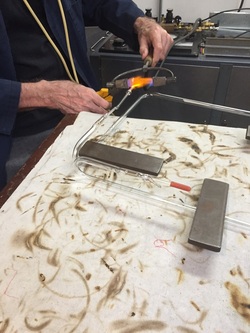 Another type of flame is a hand torch that is often used for welding pieces of glass together or welding an electrode onto your finished glass piece that you wish to fill with gas.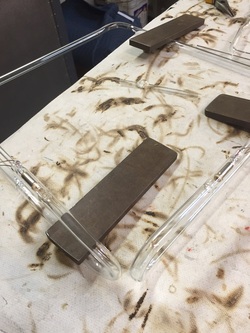 Weights are used to hold your piece in place while you weld your electrodes on. Welding requires heating, pushing and pulling the glass, and blowing with your blow hose.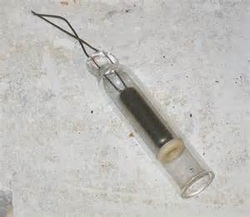 This is what an electrode looks like.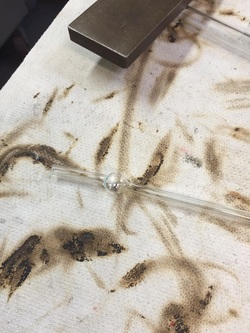 This is a picture of a mercury trap. The inclusion of mercury with either neon or argon results in a pale blue illumination.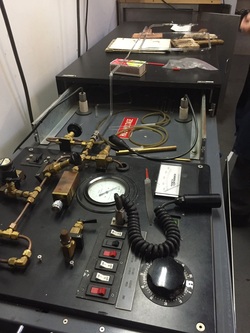 This piece of equipment is called an bombarder. Bombarding is the process in which the neon unit is heated up and at the same time the vacuum pump extracts all the air out of the unit. The reason for this stage is to purify the inner walls of the neon tube and create a vacuum. Once air is removed, the piece can be filled with gas of your choice: neon (red), argon (pale purple), krypton (white) or include the mercury in a trap as seen above (blue).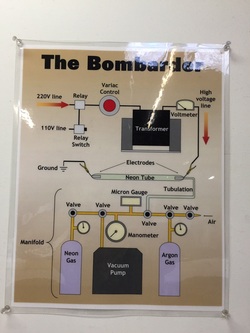 These are the components of the bombarder and how it works.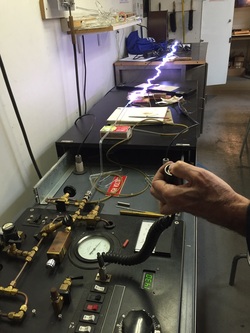 Here is Christian Scheiss
who teaches the neon classes at The Crucible pumping a long piece. This piece is filled with neon, so it will illuminate red. The process of bombarding also strengthens the areas of the glass which was worked with the flame and either bent or welded. Apparently neon sign makers used to put their finished pieces in large kilns to serve this purpose.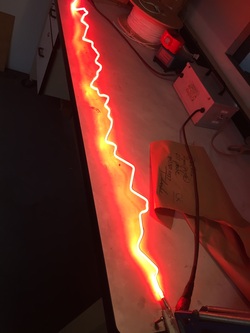 The piece is then "burned in" on a large transformer. Once the color reaches the desired intensity, it's done!

Here's a
great video
on how neon is made so you can see it live in action. :)