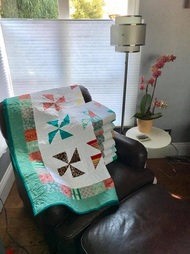 I had always wanted to make a memory quilt from my fathers clothes to keep as a keepsake but... it never happened.

When my husband's stepmom Josephine passed in June, I decided to make a memory quilt from her clothes for each of her surviving siblings. Ultimately I made 7 quilts. The name "The Sentimental Seven" was given to them.

I'm including this story here for a couple of reasons. Life has a way of impacting the creative process. I have not been in the studio because I have been caring for a family member who was dying. This is more important than making art. Also... sometimes my art isn't intended for the gallery wall... sometimes I make things simply because they need to be made.... like these quilts... read more about their story here.

The Story Behind These Memory Quilts

"Families are like quilts, stitched together one piece at a time,
and the quilt tells a story, one piece at a time." ~ Unknown

When we were packing up Josephine's belongings, there were many moments of reflection, sometimes tearful and sometimes we found ourselves laughing. Items reminded us of her: drawers of buttons from clothing she had purchased – reminding us of her sense of fashion, drawers of travel brochures and trinkets collected from her various trips – reminding us of her desire to explore the world, and drawers containing cards that she had received from her friends and family – reminding us of all the people who loved her.

We donated the bulk of her clothes and personal items to the Lucille Packard Children's Hospital (LPCH) so once sold, the proceeds would fund care for uninsured children who come to the Emergency Room needing treatment. However, not all of Josephine's clothes made it to the LPCH Children's Auxiliary. A handful of blouses were pulled out of the lot – many that she wore in her final months – to make a quilt, this quilt that tells her story and keeps the memory of her alive in the homes of those people who loved her.

The pinwheel is an icon representing childhood innocence and happy memories of youthful experiences. The pinwheel also represents movement, so this is meant to symbolize Josephine's movement from here to there. For this reason, the center blocks in this quilt are made using the pinwheel pattern from the clothes of Josephine G. Harris. A white background was used as the offset color to symbolize her pinwheels spinning in the clouds or in heaven.

There are seven of these quilts. Each was made using a different backing fabric. The border surrounding the pinwheel area contains pieces of fabric from each of the seven quilts. The various patterns represent each of the families who received them – who are colorful in their own special ways and who together, represent the tapestry of Josephine's life. The border being stitched together by me is not unlike how we were stitched in to the Buitrago family by Josephine.

Finally, on the back of the quilt, you'll find a heart. This heart is made from the shirt Josephine was wearing when all of you gathered in her home prior to her passing.