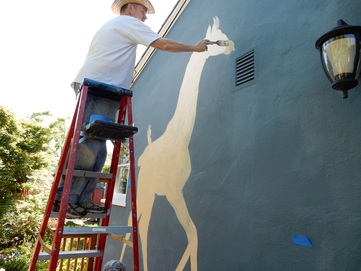 I'm so Oakland that I'm having an Oakland giraffe painted on my house by the most amazing and talented muralist,
Dan Fontes
. You've probably seen his 'Giraphics' work under the overpass at Harrison Street or "Grand Performance" under 580 overpass near the Grand Lake Theater where Dan worked along side Dan Galvez, Keith Sklar and others.
Dan and I met in a neon class at The Crucible more than a decade ago. When one of my pieces won "Best of Show" in the
Carnegie Arts Center of Turlock
'California Arts Showcase', I decided to pay it forward and hire Dan to create a Dan Fontes original on my house. Read more about Dan and how he helps beautify Oakland
here
.
I'll be adding pictures to the slideshow below as Dan works.