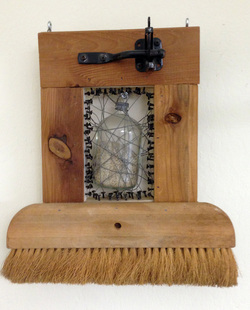 In September I got a lovely email from Tony Natsoulas at the Blue Line Arts facility in Roseville, California.
"
Do you know
Jeffery Beckerleg
? He is a good friend of mine. He told me about you."
It just so happened that Jeffery told Tony about my work and Tony was planning a show for June called "
Extra Parts: Recycled and Found Object Art". I'm thrilled to be one of 10 artists showcasing 3-5 pieces in this showcase artists who not only make beautiful objects, but are helping keep the environment nice.
I emailed Jeffery Beckerleg to find out how he found my work and most importantly, to thank him for referring my work to Tony. I can't wait for this show!

Extra Parts: Recycled and Found Object Art
Blue Line Arts
405 Vernon Street, Suite 100 Roseville, CA 95678
June 5 - July 11
Please come to the reception!
Saturday, June 20, 2015, 7:00-9:00pm