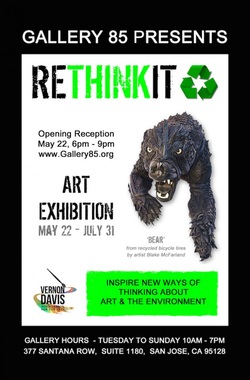 I love it when an email with the subject message "Congratulations!" arrives in my Inbox. This makes bad days good and good days even better!
Two of my sculptures have been accepted into a show in the South Bay. The show is called 'RETHINKIT' and it is an opportunity to showcase artwork which inspires new ways of thinking about art and the environment.
Since I work with found objects, I use a lot of
reused/recycled materials or discarded materials in my work so when I was submitting for this show I felt it was a perfect fit... AND SO DID THEY!
I dropped off my work at the gallery yesterday and the location is very nice and the staff were even nicer! What a nice bunch of people! In any case, if you have the opportunity to join me at the opening... come! I'd love to see you!

The show runs May 22nd - July 31st
The opening is on May 22nd from 6-9pm
Gallery 85

377 Santana Row Suite 1180. San Jose, CA 95128