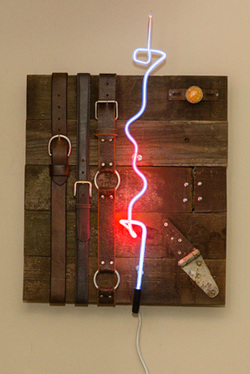 This piece was selected for the Pro Arts Juried Annual 2014 show called, "Where to From There?" in Oakland, California. The juror, Arnold J. Kemp, chose my work and the work of 19 other artists for this show. W00t! :) Here's more about Mr. Kemp from the Pro Arts Call For Entry:

Arnold J. Kemp is an artist, writer and curator. An echo in his work across these disciplines is the presence of empathy and humor in conceptual strategies to address harder personal and collective realities. In considering the world in which we live, he explains, "I leave room for laughter, as, in our current cultural moment, perhaps that is all we have."

Kemp is the Associate Professor and Chair in the Department of Painting and Printmaking at Virginia Commonwealth University. He has deep roots in the Bay Area having worked as a curator at Yerba Buena Center for the Arts from 1993-2003. Kemp's work is in the collections of the Metropolitan Museum of Art, Studio Museum in Harlem and Berkeley Art Museum. He was awarded a Guggenheim Fellowship in 2012. He is also the recipient of awards from the Joan Mitchell Foundation and the Pollock-Krasner Foundation.