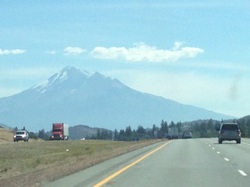 Back in April when I began creating new work and submitting for exhibition, I had decided that anywhere in California was "fair game". I have submitted to shows all over the state and was recently accepted into a juried exhibition in Yreka, California.

I had debated not submitting because logistically the location presented some challenges, but I decided that I am in it to win it. This is what I was supposed to do and if it means a 700 mile round trip drive (up and back on the same day) to make it happen, then that's what needed to be done.

A dear friend accompanied me for the drive and for 12 hours we laughed and chatted about so many things. We laughed... a lot! This friend and I also work together and we usually spend time talking in conference rooms about software. To have 12 hours to just talk about life - how we arrived at where we were in work and our marriages, and our hopes for retirement and all we saw on each of our future horizons - it was a great conversation with someone who I admire and appreciate greatly... and Oh! we got the paintings there in one piece and in the nick of time!

Both pieces that I submitted were accepted to the show! I was asked to write a statement relating to my chosen artists' inspiration to you, who he/she/they were, and when they lived etc. The show theme is "Homage" and years ago I had created two paintings as an homage to my favorite Neo-Dadaist artists.

Here is the statement I prepared for this show:
I typically create sculpture. I almost always work with found objects and usually work with neon. Painting has always been a challenge for me. I can stretch a canvas and stare at that blank canvas for hours in complete turmoil contemplating what I might create. Days, weeks, months can pass with that blank canvas hanging in my studio.

My inspiration with regards to sculpture, comes from the objects I find. After thinking about those things for hours and contemplating who might have once touched, used, and ultimately discarded that object, a story quickly unfolds in my mind, and it's these stories that I end up telling on the gallery wall.

... and then there's that canvas. Why did I stretch that canvas anyways?

The 50-60's art movement in the United States was a period during which many of my favorite artists created their best works; Robert Rauschenberg and Jasper Johns being two of my favorite artists of all time. Robert Rauschenberg had once said that he wanted to work in the "gap between art and life". I love this. I "ditto" this.

Painting has always been something I wanted to do but the only way that I am able to get paint on canvas is to imagine I am someone else.... someone magnificent... like Jasper Johns or Robert Rauschenberg. These paintings were created by imagining what they might create on that blank canvas hanging in my studio. Since I work with computers, the content is personal - the style however is 100% appropriated.
"Homage - Art in the Style of an Artist in History"
September 13 - October 19
Jurors: Jill Gardner and Linda Vivas
Liberty Arts Contemporary Fine Art Gallery
108 W Miner St, Yreka, California 96097
Opening Reception, Friday, September 13th 5:00-8:00pm