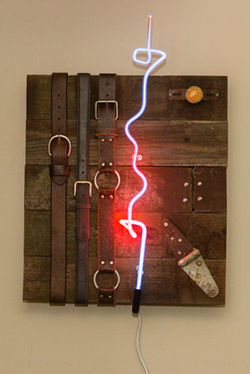 Ever since my husband built the "His" shed and I have the a 100% "Hers" shed, I've been able to organize my materials and objects in such a manner that I can actually see all the items that I've collected over the past 2 decades (maybe longer?!). In fact, looking at some of these objects, I know that I have moved them to the East Coast and back at least once. That's somewhat crazy, but when you find stuff, I suppose it's worth it (at least it is to me).

With a full time job, it's been challenging to get into the studio to focus on the creative process... but today was a very good day. This piece, titled "Strapped" is the first piece created in my 100% "Hers" shed. It includes some belts, some bits of my back fence, and some other random objects... a handle, a hinge and a single electrode neon tube.

I've been feeling somewhat strapped lately for time, so this piece came to me straight away as I glanced the belts hanging from a hook in the corner. While belts aren't typically considered inviting, I think the piece somehow manages to be warm and inviting but definitely illustrates the idea (at least to me) that things are pulled together.