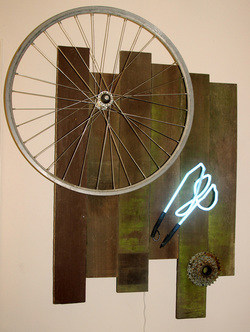 I've been submitting for exhibitions which is expensive and emotional. So far, I haven't been selected - which as I recall from earlier years it was JUST as I was feeling defeated when I would get a letter of acceptance. So... steady she goes.

I've completed another piece called "Wheel In the Sky" and I just love it. I find myself looking at it all the time, it's made from our old broken fence and some old bicycle parts that were leftover from some bicycles that my husband was given about a year ago.

We had been invited to a birthday party of a friend and saw 2 bikes that were leaning up against the fence, clearly no longer used and covered in spider webs with some rust and flat tires. Dave asked about the bikes and they were owned by the deceased husband of one of the guests. Dave spoke to her about them and offered her some money and she gave them to him with the hope that he would make good use of them. He made one functioning bike from the two bicycles and the leftover parts managed their way into this sculpture. Hence the name, "Wheel in the Sky" in honor of her husband who is most certainly in heaven. I don't even know his name.